These uppers have been shot just a little, between test firing and some firing for photography (advertising/articles). Other than that, they are brand new
16.5" stainless PacNor barrel, KG GunCoat black, 5/8 x 24 thread
Smith 458 Vortex
VLTOR MUR 1A upper receiver, ejection port enlarged
PRI Gen III rifle length hand guard
Low profile gas block, midlength gas system
Complete BCG and CH - ready to install and fire
Retail $1400, offered at $

1250

$1200 shipped
(barely above cost and it includes shipping... just request that we can use it for showing in our SHOT booth here in 2 weeks)
Lower not included
10.5" stainless steel PacNor barrel, KG GunCoat black, 5/8 x 24 thread
YHM 308 QD FH, modified for .458 caliber - can make a matching QD mount for a MIMS suppressor if so desired
A3 flat top upper with .458 SOCOM engraving
MI 2-piece FF hand guard, extended, with FSB opening, YHM low profile folding rear BUIS
low profile gas block with A2 FSB in standard carbine location, pistol length gas system
Complete BCG and CH - ready to install and fire
Retail $1150, offered at $1035 shipped
8.5" CrMo barrel, nitrided for corrosion resistance, 5/8 x 24 thread
GunCo .308 brake modified for .458 caliber, also nitrided
A3 flat top upper with Brownells flip up rear BUIS
Apex Machining low profile hand guard with "Gator Grip", Troy fixed front sight
low profile gas block, pistol length gas system
Complete BCG and CH - ready to install and fire
Retail $1150, offered at $1035 shipped
NOTE - the brake is VERY effective, but shooter will notice blow back in face. Do not shoot without eye protection.
NOTE - the barrel and brake have been treated with the SBN-QPQ process for enhanced corrosion protection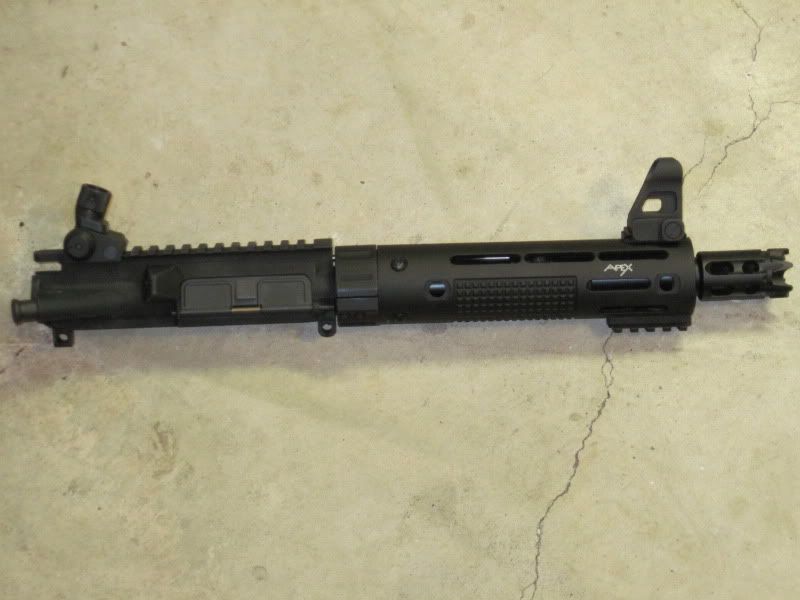 All barrels have 14 twist rate for use with all bullet weights.
Payment can be by check, money order or discreet PayPal (add 3.5%)
Shipping will be USPS Priority Insured, no shipping outside US, no extra charge for AK or HI
Buyer responsible for determining legality of ownership of particular configuration.
NFA rules apply for barrels less than 16"
Prefer Email to TeppoJutsu<aATt>peoplepc<dD0Tt>com (correct the @ and . ), no phone calls.
Please allow up to 7 days for response
First "I''ll take it" reserves it, please indicate which upper, will mark SPF
Originally Posted By shadow556:
Marty
Do you have any more of the GunCo .308 brake modified for .458 caliber for the RRA 458 uppers?
Thanks,
Shaun
Nope, just that one and with 5/8 x 24 thread. It would require an insert to make it a x 32 thread. Have done one of the DPMS/Miculek brakes that way but it is spoken for...