Help me learn about and trick out my new DPMS LR-308 24" Bull Barrel
I'm a noob to this board and to black rifles in general. I purchased my first black rifle earlier this year, a Rock River Operator 2 AR-15, and I've had a lot of fun with it. I recently decided to step it up a notch to .308 and chose the DPMS LR-308 with the 24" Stainless barrel. It's supposed to come in tomorrrow. I already have a Sightmark Triple Duty 8.5 x 25 scope for it (hopefully the cheap optic route works out for me). I'd like to do some other things to it, but I'm not 100% certain what will and will not fit the rifle. I've done a few searches here as well as read through the "FAQ Section" for .308 to learn more, but not all of my specific questions have been answered. Hopefully I can get some help here, and I will be posting pics as soon as I get her in my hands. Also, I posted this thread in the DPMS room/board. I have a feeling I'm not supposed to post it two places, but I'm still trying to get a feel for how the board works.

First, I want to change out the furniture. I don't care for the buttstock that comes with it, and I'm likely going to get the Magpul PRS. In the FAQ section I saw to be sure I get the model designed for the AR-10 or the charging handle would hit the cheek riser. I shouldn't have to change the buffer tube, and I'm pretty sure it's commercial. Planning on either the Magpul or Hogue pistol grip.

I'm not sure what to do about the handguard. I don't really know what my options are, and I haven't found a place that lists them out. I don't like the way the handgaurd looks, but I'm not too worried about that. Is there a way to add the same color to it that I use for the stock and pistol grip? Kind of like the colored rail guards you can get for picatinny rails? How much would it possibly effect the performance of the rifle if I were to change that hand guard out with a free floating quad rail? Any recommendations on this?

I know I have quite a few questions, but I tried to look around before asking. I'd appreciate if someone could point me in the right direction. Of course, once I get the rifle and start shooting it I'm sure there will be even more questions, and that stuff if really more fun to talk about than the furniture.
Im not too sure on the stock ?
But I do know that when it comes to rails i know of
Daniel Defense and Troy Industries.

Jus make sure you measure the height of upper
receiver rails so that way your free floated rails
are on the same plane.



My guess is that the stock is the commercial size, but give DPMS a call to confirm. I put a Apex Gator Grip Handguard on my LR 308 Oracle and really like them. You have to remove (cut off) the delta ring, spring pack, and spring clip from the rifle. Then the mounting adapter screws on over the original barrel nut and the round handguard tube screws to the adapter. Once everything is screwed down tight there is NO movement what so ever.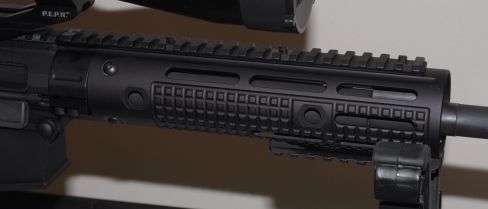 Are the Apex rails on the same plane as the upper without any adjustments (I've never changed a hand guard)?

I also notice you have a PEPR optic mount. It's my understanding that those are designed specifically for a scope on the AR-15. Is there any adjustment required to use it on the AR-10?

What about charging handles?
I got a Bravo company medium oversize charging handle for mine and
me likey!
I found a section of Midway's website for parts on the AR-10. Not sure how I overlooked this to begin with. I'm sure there is a ton of stuff there. Are there any other places recommeded? I'll check Brownells and Cheaper than Dirt too.
That rifle is very heavy. It will be 15lbs with an optic, empty mag, and PRS stock. I had that exact same setup you are going to get or shooting for. It will be a fine resting position rifle but not much for moving around with.

What you need to be careful of is making sure what parts you order, work for DPMS/Knights SR25 pattern. This is different from Armalite AR10. This is most important when relating to the barrel assembly. The stock and trigger components are the same.

I am guessing you have the raised flattop. Might make it a little tough to find a quad rail that will match that height. That said a quad rail is heavy and unnecessary if you get something you can add rail sections as needed. Depending on the FF tube already with it, depending on the quad rail may or may not be heavier.

I intend on using the rifle mainly at the range, and I actually welcome the weight for recoil. After looking at everything I want, I'm starting to think I would've been better off just building one myself the way I wanted it. You're right about the rails on the hand guard. I don't really need that many of them for what I plan on doing, so I might pass on that. Is there anything that can be put on the existing hand guard to give it some color, kind of like the ladder rail covers and other rail covers for picatinny rails? One thing I forgot to mention is muzzle break. What am i looking at there with that stainless barrel?
The recoil really isn't bad.

For color you have a few options:
1. Krylon/rattle can paint. Just tape off areas you don't want color. It not permanent and will flake off over time. Gives it a tough and you can change it without any hard feelings to match your local environment.
2. Disassemble and cerakote/duracoat/etc. More expensive but long term like the black finish already on it. I would assume you can still krylon over it if you wanted.

For a muzzle device you will need to disassemble and send it in to get it done.
I really like the
Phase 5 Tactical Extended Bolt Release
. It's a very nice addition to any AR in my opinion.
If you do end up getting the Magpul PRS stock, you will probably end up wanting a nice little monopod. The
Accu-Shot Monopod BT12-QK
.
Here's a great review
on it.
Magpul Pmags
are wonderful for a DPMS pattern AR!
If you ever need rail covers I highly recommend LaRue Index clips. They are by far the best rail covers I've ever used. Even the clone index covers work very well and are a fraction of the price. It's just a fact (regarding clone) and I don't care who flames.
I like the Hogue grip a lot, though I'm not much of a grip snob.
If you're real serious then I would upgrade the trigger. Read about Geissele triggers and Timney triggers.
I don't recall ever seeing a precision rig that didn't have a free float barrel & free float hand guard. As to exactly how much it would impact your accuracy ... I couldn't say for sure, but people don't do it for no good reason. I'm sure a quick Google search would yield you a reasonable answer.
If your LR has the solid free float tube you can replace it with the DPMS vented tube. You probably wouldn't even have to remove the barrel nut. Just screw off the old one and screw on the new one (you will have to remove the gas block though. I have this tube and I "timed" it so a slot was on the bottom. I used some blue loctite to put it at the correct position. I then used some left over MOE rail sections in the slots, they fit perfectly. I then installed my VFG and a bipod. I got a picture around here somewhere. I try to post it when I find it.
Oh, check JSE Surplus for some 308 parts. They don't have the largest selection but their prices are good on DPMS gear.
Originally Posted By bluto77:
Are the Apex rails on the same plane as the upper without any adjustments (I've never changed a hand guard)?
I also notice you have a PEPR optic mount. It's my understanding that those are designed specifically for a scope on the AR-15. Is there any adjustment required to use it on the AR-10?
What about charging handles?
Yes, the Apex handguard is on the same level as the rail on the receiver. The PEPR scope mount is working just fine so far on my LR 308. I haven't noticed any ill effects using it on the 308 platform. The PEPR is made to fit a standard picatinny rail and no special adjustment is needed to mount it on the receiver rail. I'm using a BCM gunfighter mod 4 charging handle on my 308 and it works great.
Still haven't had a chance to take pics to post, but that's coming soon. I took her to the range on Saturday and really liked the way things went. I was a little pressed on time, so I only worked my way up to the 200 yard range. I was getting groups in a ~ 4 inch circle, and I'm sure there was a little operator error there. Those will get smaller with a little practice in the near future. After using the rifle, and more importantly, after double checking the availability of funds in my checking account, I've decided to scale back on the things I want to do right now. I like the handguard quite a bit more than I anticipated so no need to replace it. I'm not going to hang very much on there anyway, so I don't need rails. I've ordered a DPMS pistol grip with the circular thing on the bottom for your hand to rest on along with a Magpul PRS buttstock with adjustable cheek riser in black. I'm going to try a Harris bipod on it too. Swap out the charging handle, and I'll be done. So far the Sightmark scope has performed well. For a 8.5 x 25 scope that cost less than $200, I can't complain. I'm going to post some pics soon. Thanks everyone for their input. I'm going to have quite a few more questions, but they're going to be geared more towards the performance of this badass rifle!